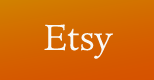 For those of you who have been unfortunate enough never to have stumbled upon etsy, it is an online community where crafters and artists sell their wares. There is an amazing selection of jewelry, photography, fine art, stationary, clothing and countless other hand made goods. Unfortunately it is sometimes nearly impossible to find exactly what it is you are looking for without spending ages shifting through search pages which are organized based on how recently an item was posted, not its relevance to your search. Things always heat up around the holidays on etsy. There are more people looking to buy, and as a result sellers often ramp up their production to meet demand.
I'm hoping to encourage people to buy beautiful handmade gifts this holiday season and I plan to facilitate that with my Holiday Guide to etsy shopping.
What exactly is the Holiday Guide to Etsy Shopping?
During the first week in November I will feature two etsy artists on my blog each day. Each feature will have a description of the products featured in the etsy shop, possibly a brief biography of the artist, a picture featuring 4-6 items from their shop and a link to the etsy shop.
How do I become featured in the Holiday Guide to Etsy Shopping?
All shops must be nominated either by emailing chic.and.charming@gmail.com or by posting the nomination in the comments section for this post. I will contact each nominated artist by convoing them through etsy to determine if they are interested in participating in the project (unless the artist self nominates). A panel of judges including the authors of
Poetic and Chic
,
Sfgirlbybay
and
Flutterbyblue
will select their favorite shops to be featured!
"I want to participate too...."
If you are a blogger interested in featuring your own Holiday Guide to Etsy Shopping during the same time period, email (chic.and.charming@gmail.com) me and I will share the list of nominees. I will also link to you from my Etsy Holiday guide and give you an idea in advance about who the other judges will be posting, so that we can avoid all posting the exact same people over and over.
Thanks for your interest in my little project! I hope it will help encourage people to shop etsy!



Image from etsy.com