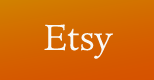 For those of you who have been unfortunate enough never to have stumbled upon
etsy
, it is an online community where crafters and artists sell their wares. There is an amazing selection of jewelry, photography, fine art, stationary, clothing and countless other hand made goods. Unfortunately it is sometimes nearly impossible to find exactly what it is you are looking for without spending ages shifting through search pages, which are organized based on how recently an item was posted, not its relevance to your search. Things always heat up around the holidays on etsy. There are more people looking to buy, and as a result sellers often ramp up their production to meet demand.
We are hoping to encourage people to buy beautiful handmade gifts this holiday season and we plan to facilitate that with our Etsy Holiday Shopping Guide!
I've talked to several of my fellow bloggers about posting their favorite etsy shops over the next week, so keep your eye on
Poetic and Chic
,
SFGirlbybay
and
Flutterbyblue
for some excellent tips on fabulous etsy shops!