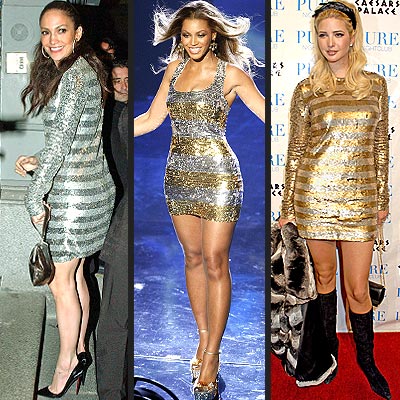 Sequins are EVERYWHERE and have been for months. To be honest, I never quite got on board with the look to begin with, so it did not take long for me to reach the saturation point.
With New Year's Eve approaching, I can already imagine the sea of shining sequins out on the town, competing with the New Year's Ball for attention. Frankly, I am not a fan of the sequined covered garment. I'm actually still alright with some partial embellishment, but I find the sequin covered shirt, or worse dress, or worse still mini skirt to be a little too much for my taste.
I believe sequins invoke memories in us all, and that is the root of my problem. I am unable to accept a trend that carries so much baggage.
How many of you can say that you look back fondly on the photographs from an event where you were covered in a glut of sequins? Personally, the closest I come to that feeling is the costume I wore for a jazz dance recital when I was seven. My hair was crimped, I was wearing makeup for the first time ever, I was hot stuff.
Flash forward to 2008, am I still going to feel hot in an outfit that evokes memories of jazz fingers and bad 80s prom dresses? Do I really want this outfit recorded on film for anyone to see in 6 months when sequins have gone the way of ankle warmers?
Forgetting about aesthetics for a moment, these garments are beyond impractical. The cleaning is its own special nightmare. Your best bet is to hand wash, but for the lazy dry cleaning is the recommended course. Next, comfort I imagine is an issue, although I have not actually attempted it, one would imagine vinyl seating and and a sequined mini skirt would not be comfortable. That said, I cannot imagine anyone actually wearing a sequined mini without looking wretched, with the exception of a waif like model, who of course I already scorn on the principle of the thing.
Finally, from the first time someone slips a sequined garment in the dressing room, the shedding slowly begins. Buy a cheaply made sequined dress and you may feel like Gretel leaving a shining trail to follow home after a long night out at the bars...on second thought that might not be such a bad idea...
Image from people.com