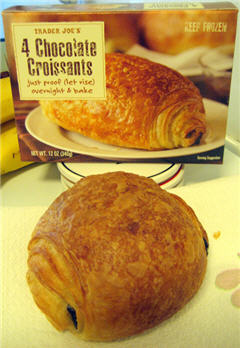 Croissants are among the most challenging baked goods for the home baker to make themselves. It takes DAYS to produce the final result and even then you might experience failure...very demoralizing. Fortunately there is a
genius
working in the Trader Joe frozen food development department who had created frozen pan au chocolat.
I knew after the first bite that I HAD to share these delicate pastries with all the world, and I am not alone...every review of Trader Joe's chocolate croissants that I have seen on the internet as been overwhelmingly positive.
You simply place the frozen pastry on a cookie sheet at room temperature as you go to bed, the next morning you slip the miraculously puffy dough into the oven for 25 minutes. Viola!
Delicious, hot and perfectly puffy pan au chocolat that rivals the from scratch pastries you might purchase in a French bakery IN PARIS. Yes, I am not exaggerating, these pastries are THAT DELICIOUS!
I have absolutely no reason to ever make a weekend pastry run every again. I cannot wait until the next time I have an overnight guest, because I will be knocking their socks off by serving these perfect pastries for breakfast!
Image from heateatreview.com