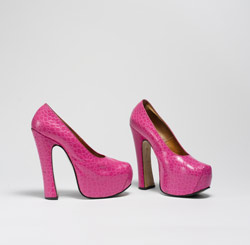 The Metropolitan Museum of Art started a
fashion blog
on December 17th, 2007. The museum is posting one blog entry for each piece currently on display as part of the blog.mode: addressing fashion exhibition. The history of each piece is meticulously detailed in the blog post, along with a picture or two.
One would think the Met might have attempted to engage the fashion blogging community as part of this exhibit, they are after all jumping in our swimming pool. Perhaps I am being a blog snob, but frankly I get a little turned off reading some of the comments on each post. I am guessing that there is some sort of console at the Met as part of the exhibition, as several comments are from 6 or 7 year old girls talking about how they would enjoy wearing
Vivienne Westwood's
platform pink heels. In stark contrast there are some comments that veer off in an entirely different direction with a pretentious faux academic assessment of the posted article. Finally, there are a smattering of individuals posting their opinion that fashion is stupid or a waste. If it is so stupid, why did they waste their time looking at and commenting on the fashion blog??
I'm ambivalent about the whole project. I think the idea is intriguing...I have not been that impressed with the execution or marketing.
Image from the Met