SO, the Starbucks website says "We're doing something big at Starbucks, like Venti big" to be unveiled tomorrow. Well, my Starbucks jumped the gun, because they ran out of cups and released the "surprise" cups a day early.
The Starbucks logo that you are so familiar with has been replaced by the mythical 15th century two tailed siren that was originally the company's logo. The current version is sans nipples, but otherwise about the same
(see small corner logo).
S
tarbucks originally felt this logo was not going to fly commercially, and based on my friends' reactions to their cups I would have to say they made a wise choice. The logo has previously been released for a short time in Washington and Oregon.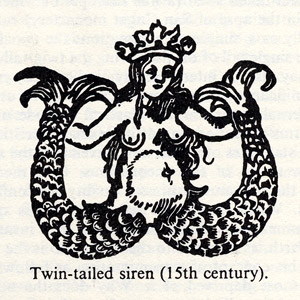 For those of you interested in learning a little more about what the old logo is all about: the image is based on a 15th or 16th century engraving of a
Melusine
(depending on the source). Sirens of yore seduced and killed sailors... and I suppose that was a little difficult to do with one tail, so for quite some time mermaids were actually reported to have two tails.
Images from
dead programmer