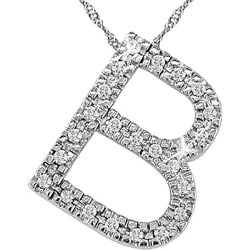 I was watching (or should I say re-watching) the "Hi, Society" episode of
Gossip Girl
, the one with the
debutante
ball...and spotted a new, very cute detail. The beautiful Blair Waldorf was wearing diamond encrusted white gold initials on a necklace during the scene where she is talking to the NYT writer. She had a "B" and a "W" in block capitals.
Overstock.com has an exact match for this fabulous necklace
, surely at a fraction of the cost. Personally, I am a little more into the swirly,
script initials
...and may just purchase an "S" for myself in the near future.
Image from Overstock.com